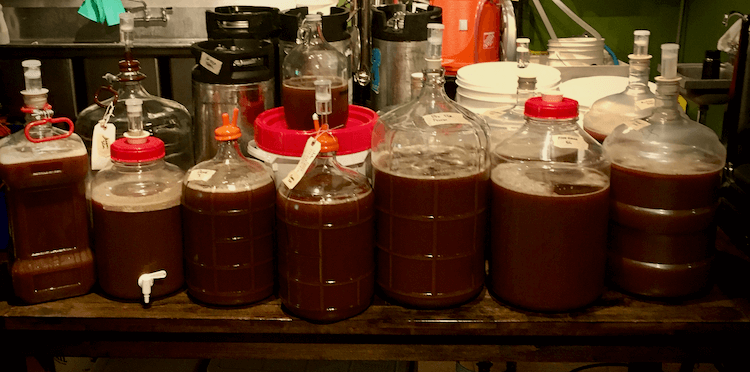 How To Brew Cider
Clean and sanitize your fermentation vessel, and airlock and a rubber stopper
Rinse thoroughly with warm water.
Add 1/2 tsp StarSan to 1 cup water and pour in your fermenter, fasten lid and insert stopper and airlock. Shake then drain through the spigot. Some suds may remain—this is ok. Do not rinse!
Fill your vessel with fresh cider.
Crush and add 1 Campden tablet per gallon of cider, stir gently, then cover. Insert your airlock and fill it with sanitizer or water. Wait 24 hours.
Add yeast (see Choosing Yeast For Your Cider, recover, replace airlock and top it off wuth sanitizer or water.
Active fermentation will usually start in about 12 to 36 hours. Ensure the airlock stays filled with fluid.
Allow 3-4 weeks for your cider to fuly ferment and for the yeast to settle.
Using a spigot or siphon carefully fill bottles up to a half inch from the top.
For sparkling cider add up to 8 carb tabs per 12 oz bottle or 10 per 16 oz bottle. Cap your bottles and allow 2 weeks to fully carbonate before refrigerating and drinking.
For still cider allow a few days in the refrigerator before drinking.
2021 Cider Buy Special Release 1 Hour Recipe Kit
We've made it even easier to particiape in our Cider Buy with our Cider Buy Special Release Kit. Using our Simply Brewing™ 1 Hour Equipment kit, this recipe kit provides detailed directions for making hard cider with our fresh cider.
Prepare your fermenter and drop it off at Gnome Brew by October 22nd and we'll fill it on Cider Day, October 23rd with fresh pressed organic cider straight from the orchard. The kit's instructions will help you the rest of the way.